WordPress Simple Site Map
The "WordPress Simple Site Map" plugin is a user-friendly and efficient solution designed to simplify the process of generating and maintaining an organized sitemap for your WordPress website. With its intuitive interface and powerful functionality, this plugin empowers you to create a clear and structured representation of your site's content hierarchy.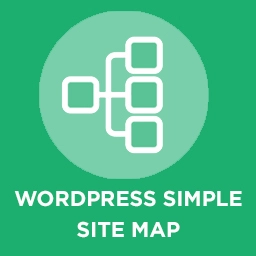 Navigating a website can be challenging, especially as it grows in content and complexity. The "WordPress Simple Site Map" plugin simplifies the browsing experience for your visitors by providing a clear and organized overview of your site's structure. Experience the convenience of streamlined sitemap creation with the "WordPress Simple Site Map" plugin. Elevate your site's SEO, enhance user navigation, and foster a more user-friendly and search engine-friendly environment for both new and returning visitors.
Effortless Sitemap Creation: The "WordPress Simple Site Map" plugin takes the complexity out of creating a sitemap. Generate a comprehensive map of your website's pages, posts, categories, and more with just a few clicks.
Enhanced SEO: A well-structured sitemap can improve your website's search engine optimization (SEO). This plugin automatically generates an XML sitemap that search engines like Google can crawl and index, helping to boost your site's visibility.
Regular Updates: Count on regular plugin updates to ensure compatibility with the latest WordPress versions and to potentially introduce new features based on user feedback.
User-Friendly Interface: Navigate the plugin's intuitive dashboard effortlessly. Easily configure sitemap settings, control what content is included, and manage the sitemap's appearance without technical expertise.
Customization Options: Tailor the sitemap to match your website's design and branding. Choose from customizable templates, styles, and layouts to ensure the sitemap seamlessly integrates with your site's overall look and feel.
Accessibility Considerations: The plugin is developed with accessibility in mind, ensuring that all users, including those who rely on assistive technologies, can access and interact with your sitemap.
To get started with ERA Simple Site Map, simply install the plugin, and you're ready to safeguard your digital assets. Upgrade to the premium version for advanced features and automated scheduling. For more information and support, 
Contact us now and we are happy to assist you
Stay Up-to-Date with the Latest WordPress Plugin Developments from ERA Solutions