ERA Simple Shortcode Finder
The "Simple Shortcode Finder" is an indispensable WordPress plugin designed to make locating shortcodes within your website's content a breeze. With its user-friendly interface and effective search capabilities, this plugin empowers you to swiftly identify the location of shortcodes used across your WordPress site.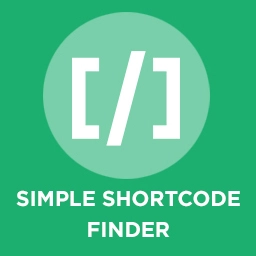 If you're seeking a straightforward solution for quickly finding shortcodes within your WordPress website, the "Simple Shortcode Finder" is your ideal companion. Simplify the process of identifying shortcode usage locations, enhance your workflow, and efficiently manage your website's content with this plugin's indispensable features. Unlock the power of efficient shortcode discovery with the "Simple Shortcode Finder" plugin. Elevate your productivity, maintain consistency, and enjoy a hassle-free shortcode search experience within your WordPress ecosystem.
User-Friendly Interface: Experience the ease of navigating through the plugin's intuitive interface. Browse a clear list of located shortcodes, conveniently displaying where they're utilized on your website.
Streamlined Search: Utilize the plugin's efficient search features to streamline your shortcode discovery process. Filter results by shortcode name, attributes, or specific content sections to find the shortcodes you're looking for.
Saves Time and Effort: Say goodbye to manual searches and time-consuming exploration. The "Simple Shortcode Finder" speeds up the process of locating shortcodes, allowing you to focus on other essential tasks.
Detailed Insight: Gain valuable insights into each shortcode's usage context. The plugin not only identifies the location but also provides relevant context, enabling you to understand the purpose and context of each shortcode.
Seamless Exploration: Browse through the plugin's search results and explore the identified shortcodes effortlessly. Quickly determine where each shortcode is used and make informed decisions based on their context.
Accessibility Considerations: Built with accessibility in mind, the plugin ensures a smooth experience for all users, including those who rely on assistive technologies and keyboard navigation.
To get started with ERA Short Code Finder, simply install the plugin, and you're ready to safeguard your digital assets. Upgrade to the premium version for advanced features and automated scheduling. For more information and support, 
Contact us now and we are happy to assist you
Stay Up-to-Date with the Latest WordPress Plugin Developments from ERA Solutions