Contact Form 7 Field Repeater
The "Contact Form 7 Field Repeater" plugin is a versatile and dynamic tool designed to extend the capabilities of the popular Contact Form 7 plugin for WordPress. With this plugin, you can effortlessly create repeating sets of form fields, enabling users to provide multiple instances of information within a single form submission.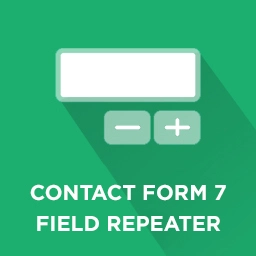 The "Contact Form 7 Field Repeater" plugin revolutionizes the way you gather data from your website visitors. Offering an elegant solution to repeating form fields, it empowers you to create interactive forms that align with the diverse needs of your audience. Discover the flexibility of form creation with the "Contact Form 7 Field Repeater" plugin. Elevate user engagement, improve data collection, and tailor your forms to accommodate dynamic user inputs without compromising on user experience.
Field Repetition Made Easy: Say goodbye to limitations when designing your forms. The "Contact Form 7 Field Repeater" empowers you to replicate form fields with ease, enabling users to add and submit multiple sets of data within a single form.
Dynamic Form Building: Build dynamic forms that adapt to the user's needs. Whether users need to add additional contact details, products, or entries, this plugin accommodates their requirements seamlessly.
User-Friendly Interface: The intuitive user interface encourages user engagement. Users can effortlessly duplicate or remove field sets according to their needs, without confusion or technical hurdles.
Enhanced User Experience: Allow website visitors to conveniently provide repetitive information without the need to reload the entire form. This streamlines the submission process and enhances user satisfaction.
Flexible Configuration: Customize the repeating field sets to suit your specific use case. Define the fields that are repeated, set limits on repetitions, and establish the appearance and behavior of the repeater for optimal form usability.
Data Clarity: With the ability to capture multiple instances of information, you can collect comprehensive data without the need for multiple form submissions. This ensures better data integrity and more accurate insights.
To get started with ERA Contact Form 7 Repeater, simply install the plugin, and you're ready to safeguard your digital assets. Upgrade to the premium version for advanced features and automated scheduling. For more information and support, 
Contact us now and we are happy to assist you
Stay Up-to-Date with the Latest WordPress Plugin Developments from ERA Solutions